In a fast-paced, ever-changing market place such as the international shipping business, flexibility and intensive market knowledge are key factors for professional success.
Sea-Concert disposes of these key qualities, combined with a extensive number of closely/directly worked shipping lines complemented by a wide network of agents and shipbrokers that have proven their reliability throughout the years. Market impulses are immediately processed and likely trends are recognized at an early stage.
All of this permits Sea-Concert to provide their clients with the optimum solution for their shipping requirements.
Sea-Concert's clientele is comprising Trading Houses, Manufacturers and Producers, Project Owners and Forwarders but ofcourse also Ship Owners and Shipping Lines.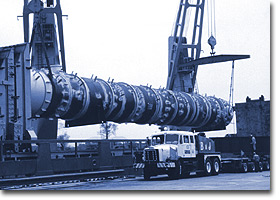 Sea-Concert specialize in the carriage of Project Cargoes and Heavy lifts world wide, but those are as much part of our daily business as the fixture of commodities such as steel, paper, rice and other break bulk and bulk commodities.
Sea-Concert are also able to serve their clients with services going beyond the usual scope of brokers such as
voyage management
complete transport chain management and
multi-modal transports for both, Project cargoes as well as break bulk commodities.
Whatever shipping requirements you may have - whether voyage or time charter, Projects and Heavy Lifts or break bulk or bulk commodities - Sea-Concert is a reliable partner, developing flexible and competitive transport solutions tailored to your needs and providing professional advice in all shipping related matters.